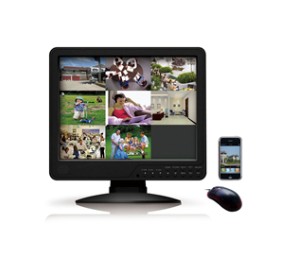 Product Description:
LP-6864/6868

Features
◆ 15"LCD all-in-one Standalone DVR.

◆ Adopts the standard Main profile H.264 compression technology

D1 and CIF can be adjusted, supports 4/8ch recording,

Network transmission, and playback simultaneously.

◆ Support dual-stream transmission for all channels.

◆ Support Multiplex operation: live, record, playback, backup,

network transmission, mobile phone surveillance.

◆ Support backup with USB Flash Disk,

Movable hard discus writer, Network.

◆ Support 1channel. Main output.

◆ Support password watermark function to avoid data modification.

◆ Support Email alarm.

◆ Mobile phone surveillance (Win CE/Symbain/iPhone/Blackberry)

◆ Support Multi-language OSD Menu.

◆ Support mouse, remoter controller, panel operating.
4 Channel RCA/1 Channel RCA

8 Channel RCA/1 Channel RCA

Live\display\Playback\Recording\Backup\

Mobile

phone Surveillance \Network simultaneously

PAL:D1(704*576),NTSC:D1

(

704*480

)

Manual\Timer\Motion Detection\Alarm

D1@100fps,HD1@100fps,

CIF@100fps

adjustable

D1@100fps,HD1@100fps,

CIF@200fps

adjustable

PAL:D1(704*576),HD1(704*288),CIF(352*288),

NTSC:D1(704*480),HD1(704*240),CIF(352*240)

1/4 channel playback simultaneously

(

Optional playback channel

)

USB

、

Moved Hard Disk

、

USB Writer

、

Network

4/8Channels real-time Network transmission with CIF resolution

Special player, Support AVI file format conversion

4 channels input

,

1 channel output

8 channels input

,

1 channel output

Send pieces to the designated email

Supports

(

PELCO-D,PELCO-P

)

Support 1 SATA HDD

,

capacity to 2T

1 RJ-45 10/100M via Ethernet, Support TCP/IP

、

PPPOE

、

DHCP

、

DNS

、

DDNS

、

NTP

、

UPNP

Support

(

Main and secondary interchange

)

Max Support five users online access

Mobile Phone Surveillance

Support Windows\ Symbian\ iPhone\Blackberry Operation System

Support

(

Supports controller ID matching

)
Pre:PTZ Camera Next:Dome Camera